Amid the ongoing crypto market decline, the number of crypto wallets containing one Bitcoin (BTC) or more continues to rise.
According to major blockchain analytics firm, Glassnode, the number of Bitcoin addresses holding one or more bitcoins has been steadily growing and reached a new all-time high (ATH) On March 11. On that day, the amount of hodlers owning one Bitcoin or more reached an ATH of 795,630, crossing a previous ATH of 795,300 observed on March 10, Glassnode tweeted.
Since March 2019, the number of Bitcoin wallets holding one or more bitcoins added more than 60,000 addresses, according to public data by Glassnode. By steadily nearing the 800,000 threshold, the amount more than doubled in the past five years.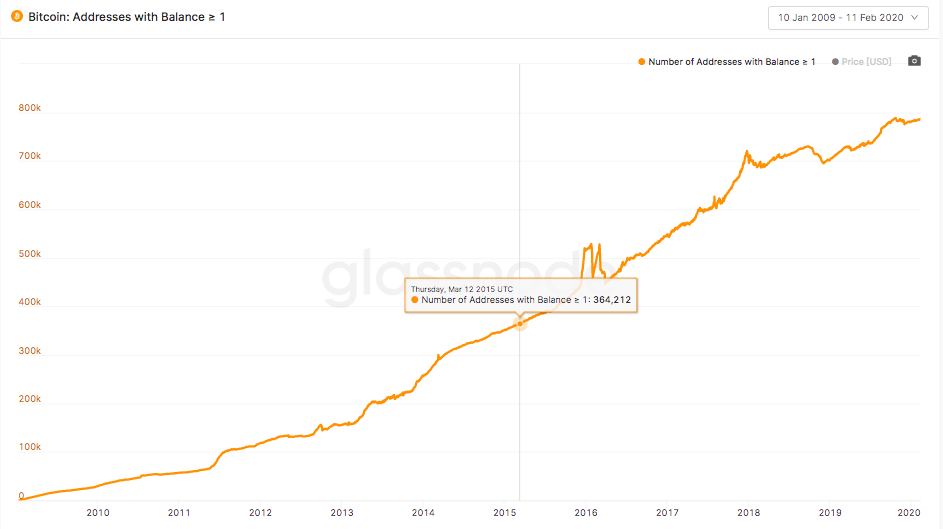 Bitcoin addresses with balance over 1 Bitcoin. Source: Glassnode
Various tiers show different dynamics though
On March 10, Glassnode also reported that the number of non-zero Bitcoin addresses also reached an ATH of more than 29 million. In line with the steady growth of Bitcoin addresses containing one or more bitcoins, the number of users who own over 10 bitcoins is also continuing to grow, according to data by Glassnode. These numbers purportedly show the increasing interest in Bitcoin by retail investors, as previously outlined by some industry experts.
On the other hand, the amount of investors holding 100 or more bitcoins have been gradually decreasing over the past year, according to Glassnode data. At the same time, the amount of whales who own over 1,000 in Bitcoin has been stable and even growing over the past year, the records show.
People getting excited to finally own 1 BTC on the day it loses over 20% of its price
As Bitcoin lost more than 20% of its price earlier today, dropping to 10-month lows of $5,720, owning one Bitcoin became somewhat easier. As such, some online users are excited to have finally accumulated a whole Bitcoin, despite the falling markets on March 12.
However, amid the intensifying coronavirus fears, worsened by news of President Trump's travel ban and crashing oil prices, other users don't exactly expect anything good from Bitcoin. "Yeah just wait till all calms down you may buy 5 soon instead of 1," one Reddit user argued, indicating a bearish sentiment with regards to the market.
Thursday, March 12 can apparently be referred to as the second "Black Monday" event this week, leaving the crypto community with more concerns over the upcoming Friday 13. The market turmoil broke just 59 days before the long-discussed Bitcoin halving, which is prospected to become the biggest trigger for Bitcoin's moonpath to $100,000.