After a tumultuous day of trading which saw Bitcoin (BTC) price drop 28.35% from $7,650 to $5,500, the carnage restarted at 11:00 (UTC) when Bitcoin abruptly dropped another 24%. This brought the price to $4,679, a new 2020 low and a price not seen since April, 2019.
The price action of the day means Bitcoin's 2020 gains are completely wiped out and the asset is currently 58.07% down from its 2020 high at $10,500, a price achieved less than one month ago.
Data from Coin360 also shows Bitcoin's market capitalization dropped $48.3 billion, falling from $137.8 billion to $89.5 billion in just one day, representing the most extreme drop since 2013.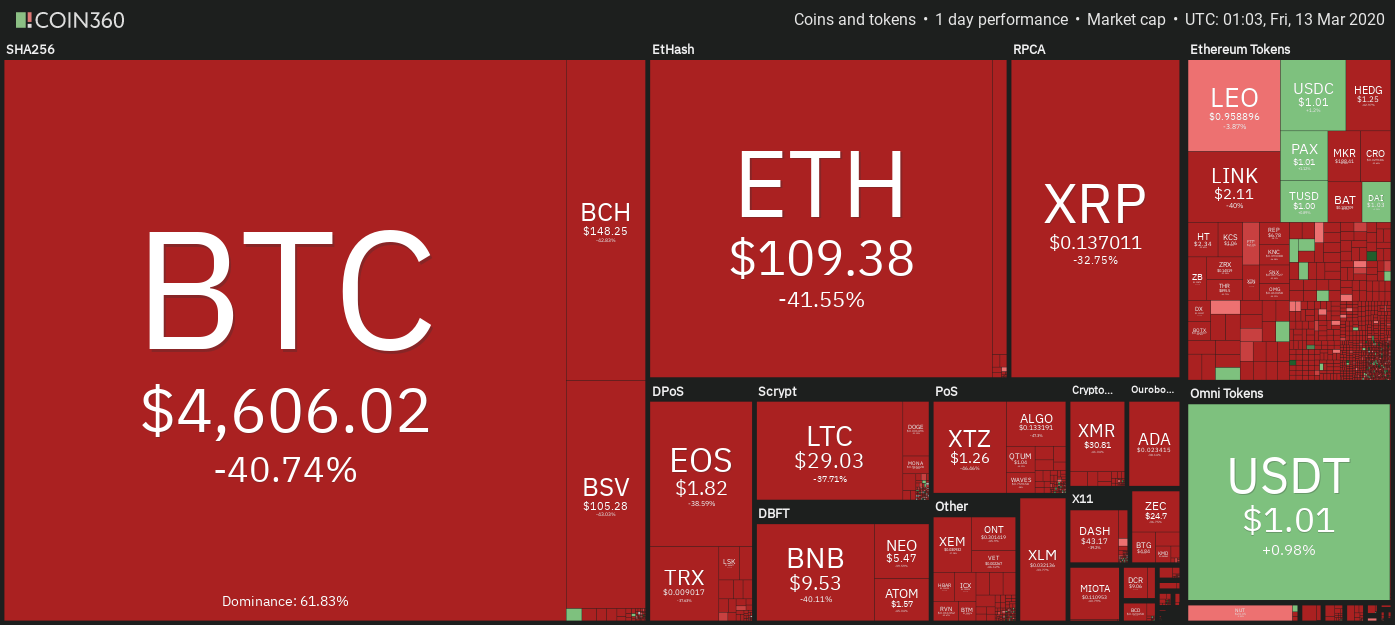 Crypto market daily price chart. Source: Coin360
COVID-19 and the traditional markets drive Bitcoin's price action
Futures markets also continue to fall and at the time of writing the Dow and S&P 500 futures are each down 1%. Gold futures have also dropped 0.87%, while Silver futures are down 1.56%. Investor confidence in equities markets and risk on assets continue to degrade based on the growing economic uncertainty caused by the global Coronavirus pandemic.
As reported earlier by Cointelegraph, today the U.S. Federal Reserve announced plans to inject up to $1.5 trillion into the market with the hope of preventing further collapse but the first $500 billion injection did little to combat the decline and the Dow closed with a historic 10% loss.
Adding to the chaos of the day, multiple mainstream media outlets reported that nearly 50% of U.S. states have declared various states of emergency which have led to the mass closure of schools and the suspension of all professional sporting events. Based on the current state of the futures market, it seems likely that stocks and cryptocurrencies will decline further at Friday's opening bell.
What's next for Bitcoin price?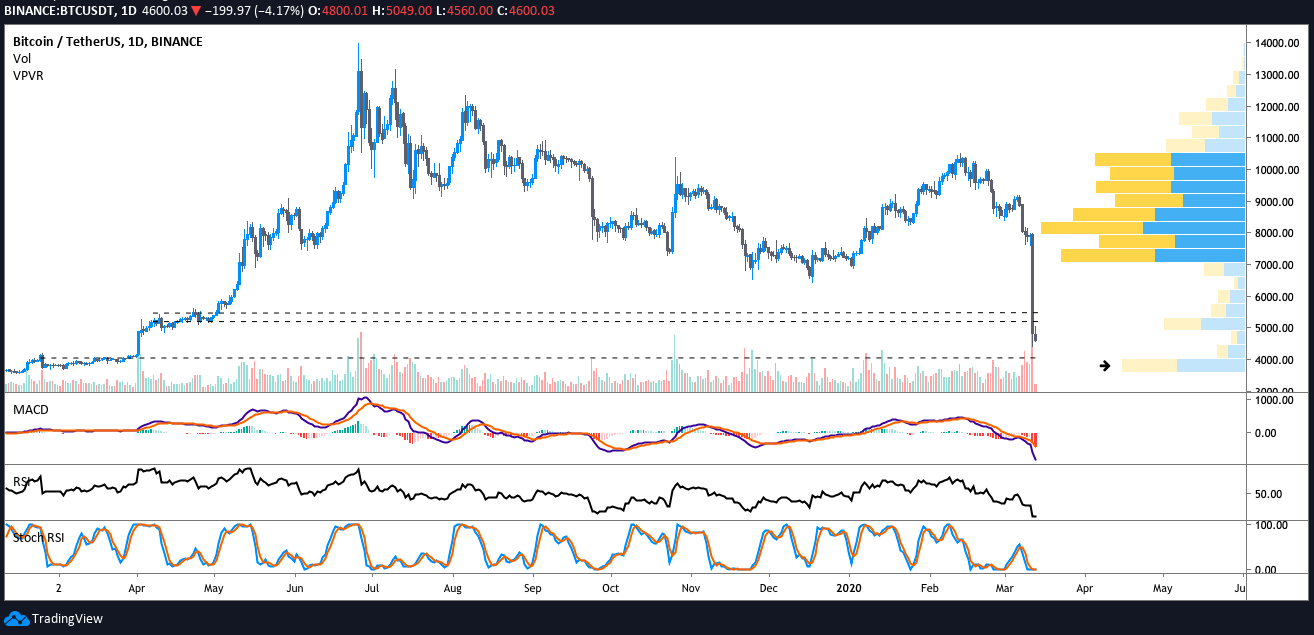 BTC USDT daily chart. Source: TradingView
At the time of publishing, the price has bounced a little over 9% to trade at $4,800 but the long-legged doji candlestick on the daily chart shows traders remain unsure about the direction the price will take.
The absence of strong buying volume and the deeply oversold stochastic relative strength index and increasing negative momentum on the moving average convergence divergence show traders are not yet ready to buy on any dips.
Bitcoin sliced through the $5,500 and $5,200 support on the drop to $4,679 and if the correction continues the last point of defense is at $4,030. Below this level, Bitcoin looks to retest 2-year lows in the $3,000 range.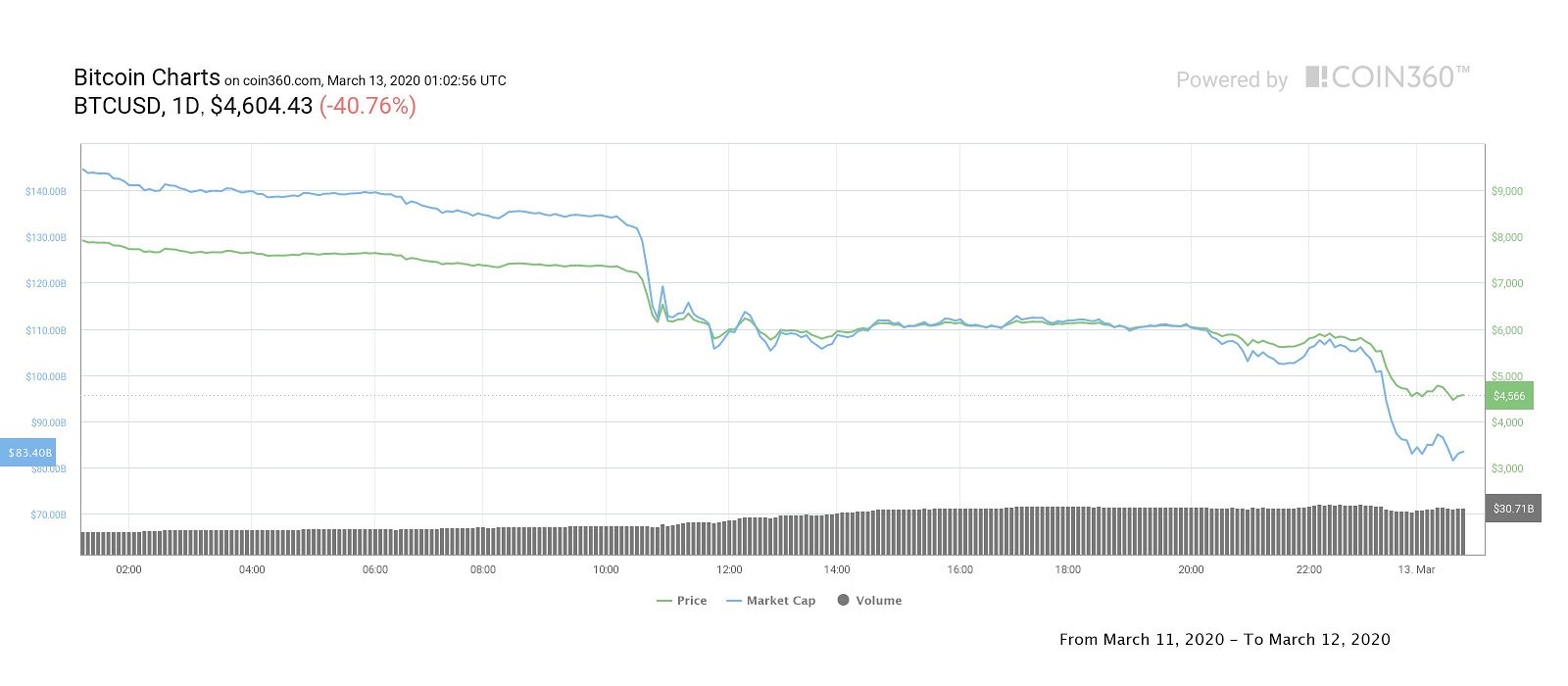 Bitcoin daily price chart. Source: Coin360
Altcoin prices also took on heavy losses as Bitcoin price corrected. For the second time in 24-hours, notable daily losers were Ether (ETH) with a 43.06% loss, Bitcoin Cash (BCH) which has dropped 42.85%, and XRP which now trades at $0.13, a multi-year low.
The overall cryptocurrency market cap now stands at $135.8 billion and Bitcoin's dominance rate is 63.7%.
Keep track of top crypto markets in real time
here